By Laura Cummings
On Sunday 24th August, I took on my biggest challenge yet and took part in the Round Sheffield Run. The race consisted of 15 miles of beautiful trails around Sheffield, taking in some of the steepest hills and astounding city views. The race itself is broken down into 11 stages; each stage is timed and there are various terrains and elevations encountered. Between each timed stage there is a rest section with a time limit for each, which gives the runners a chance to rest and chat to each other about the previous stage and what's coming up.

To time each stage, the runners have a 'dibber' which had to be swiped at each start and end of a stage, as well as when crossing the roads! At the end you are given a receipt with a time for each stage and a total running time.
Another difference to this race is the starting times. Instead of everyone setting off in one go, leaving the slower runners trailing behind, everyone has to book a 15 minute starting time slot. The slots are given out on a first come first served basis, rather than by your estimated finishing time. I loved this as I am a slower runner who ends up with no one running around me, as everyone has sped off! So not only was I constantly surrounded by other runners - some faster than me, some that started before me - it also meant that in the rest breaks you got to meet all types of runners, which was just fantastic and made this the most social race I have ever been a part of.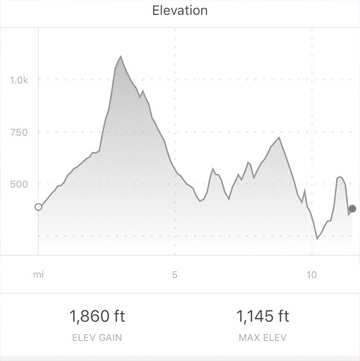 The route itself was gorgeous and really encompasses a lot of the beauty of Sheffield, running out towards the Peak District and through many of the city parks and woodland. A route this long did include its fair share of drastic elevations, covering over 1800ft which I could definitely still feel in my legs for many days afer! What's clever is that because of the timed stages, which are very manageable distances (the longest being 3km), you aren't quite as aware of how far you have run or for how long.
Not only was this race the furthest distance I have ever tackled, but also the longest I have been running on my feet – the total time I was out there was 3 hours 50 minutes, with my staged running intervals totalling 2 hours 46 minutes (14 minutes under my goal time of 3 hours!) – add this extra time with the elevation and it truly is a challenging event, but it was the most fun and organised perfectly.
Having not long lived in Sheffield I didn't recognise where I was for the most of the route; 2km from the finishing line I ended up right near my house, and with the end in sight I hurried down to the last running stage, a 0.4km dash to the finish line to be greeted by a very smiley lady who handed me my medal.
The post-race party in the park was fantastic; there were still plenty of people around when I had finished, with runners finishing for hours following me due to the staged starts. This is such a nice way to finish, instead of being one of the last and having no one there to celebrate with you! There were gourmet cheese toasties, a local wood-fired pizza company and a free pint to help soak up the atmosphere and glorious sunshine. For me, it was a nice way to catch up with my fellow running team mates who were all out in force to enjoy this fantastic event.
I had often been told that this was a lot or runners' favourite event of the year, and now it is mine! I'm looking forward to next year's already, though I am not going to walk uphill for a mile back home...think I'll take a taxi next time.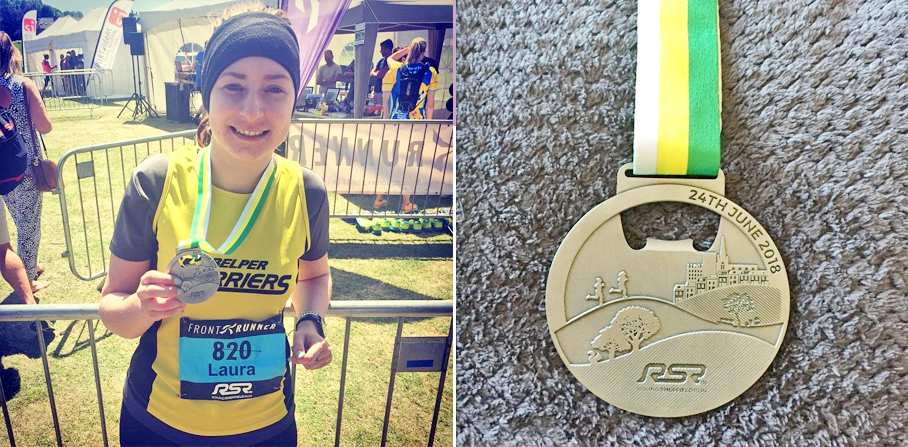 I never thought I would be participating in events longer than a half marathon, and especially not if that distance wasn't a flat course – this event has helped me to push myself and achieve a goal I once upon a time would never have thought possible – a highly recommended event for every trail runner!