By Laura Cummings

There has not been one race I've taken part in that I haven't enjoyed, but some are on another level. At the end of September, I was lucky enough to take part and complete the 7th Tissington Half Marathon. It is an exclusive event with limited places, often selling out within a day of places going up for sale – it is also often ranked as a top 10 UK trail race, and I can see why.
Similar to the Monsal Half Marathon I took part in back in March of this year, the Tissington is a disused railway line from Ashbourne to Buxton. Now, it is a popular cycling, walking and running route. Being an old railway track, it benefits from being completely flat and has been gravelled over to make for an easy trail running surface. Nice Work organise both events and the organisation is flawless.
It has taken three years to complete this race; the first year it sold out too quickly and I missed out on a place, and the second year I had an injury and deferred my place to this year. Having had shin splints over the summer, I was worried that for a third year I would miss the Tissington Half. I had to tweak my training to account for the injury and take my pace really steady. I had run a couple of 8 mile runs prior at a very steady pace and still wasn't sure how race day would really go! My goal was just to finish, even if I had to walk a fair amount of the way.
The race began in what felt like freezing temperatures, after all the racers got a coach from Ashbourne to the start line in Parsley Hay. By about mile 2, I was completely on my own with no other runners in sight, so I took my time, had my favourite running playlist on, and enjoyed the stunning scenery around the trail – it is the most beautiful Half Marathon I have ever run, with countryside all around, hills and valleys, cows and sheep… a real country trail race.

There were regular drinks stops and cheering supporters at important way markers, such as at 9 miles when I needed a bit of a boost! Before I realised it, I had run 11 miles and was feeling very comfortable – I couldn't quite believe how I had managed to run that far and how I hadn't really noticed the time going by so quickly! I had to remind myself to savour each moment of the race and enjoy every mile. I took a bit of a walking break between miles 11 and 12 to let myself recover a bit and hydrate – this however, turned my legs into jelly and I had to keep running – so I ran the rest of the race, with so many cheering runners at the finish line, which is just lovely and helps push you that last bit.
I finished this race feeling fantastic – my legs are now in a lot of pain, but I really enjoyed my run and didn't put any pressure on myself to run a certain time, and it shows how much you can achieve when you take that pressure away. I felt I had run really well, covering 12.3 miles actually running, which I did not imagine I could do considering the injury I had recently had. This is the 3rd time ever I have run this distance and I do think the scenery and supporting cattle helped me through!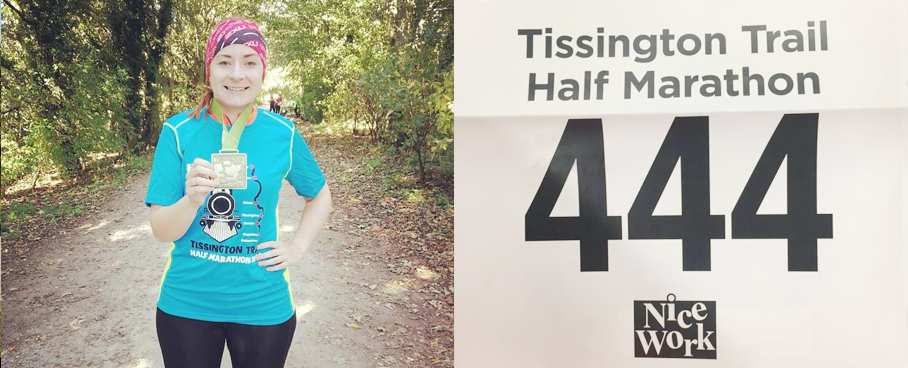 I can 100% see why so many runners return to this event and why the places are already gone for 2019 – a wonderful country trail race in beautiful Derbyshire.
The trail running addiction continues…