The Spine Race, the Dragon's Back Race and Ultra-Trail du Mont-Blanc: Damian Hall reflects on 2015, his most successful year of running.
(Images by Summit Fever Media and Damian Hall)

If you'd have told me on 16th January that 2015 would be my most successful running year, I'd have laughed at you in a kind of desperate disbelief. Then started sobbing on your shoulder, probably leaving sticky smears of snot behind (I can be thoughtful like that).

After the 268-mile Spine Race – not entirely unexpectedly – I was a mess. I was emaciated, insatiably hungry and tendonitis up both shins meant I couldn't run again for seven long weeks. Being able to stuff my face constantly was, admittedly, a pleasing consolation. Though that only lasted for a week.
I love the Pennine Way and I love the Spine Race, having completed them thrice and twice respectively. I love the surprising remoteness of England's oldest and toughest National Trail, the astonishing gestures of goodwill, the inspiration from extraordinary fellow runners,and the otherworldly highs it brings. And I was thrilled to sneak on to the podium. But the race can't half bash you about a bit.
I was excited about the Dragon's Back Race in June, but fearful I wouldn't recover in time to train properly. I even wondered whether my body simply wasn't strong enough for competitive multi-day running. Feeling disillusioned, I got advice from endurance athlete, sports therapist and coach Marcus Scotney.
The uber-bearded ultra-running ace gave my fitness a full reboot. He sorted my injury and designed a training programme based on running in heart rate zones and hours, rather than miles and min/mile paces. I started with (frustratingly) slow running – which he insisted would, perversely, make me faster. I only had six weeks until the London Marathon and I didn't really believe him.
But London went well, improving my Personal Best time by 10 minutes, to 2:43:29. I'll never love road running like I love running in lumpy places, but it was good to do something completely different (i.e. not involving bogs or horizontal hail) after the Spine. With my endurance base seemingly sorted, Marcus prescribed monstrous hill-running sessions in preparation for the five-day Dragon's Back Race's 16,000 metres of ascent and approximately 190 miles. In truth, work and life got in the way and I didn't do many of them.
I did however complete the Great Lakeland 3 Day mountain marathon, which was excellent preparation and included lots of free cake. In a staggeringly unimpressive 29 long hours, I also shuffled round a Long Distance Walkers Association 100 in Lancashire's west Pennines, developing a new passion for pizza-crumpets en route. I also couldn't resist the 21-mile Welsh 1000m Peaks Fell Race in Snowdonia, probably my favourite race. I was 30 minutes quicker there than the previous year. Marcus would rather I hadn't raced so much.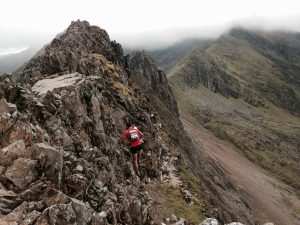 The Dragon's Back Race was like a dream holiday. Each day we got up, stuffed our faces with tasty nosh, ran in the rugged Welsh mountains for 8-10 hours, socialised with like-minded folk, stuffed faces again, slept, and repeated. Wonderful scenery, wonderful people, wonderful food and running. It's the happiest I've ever been during a race. Though tendonitis returned on day three, I was reasonably content with fifth place overall.
After Wales, I had two months until Ultra-Trail du Mont-Blanc in the Alps, the world's most popular and competitive 100-mile race and my third A-race of the year. My tendons needed time to recover and with ridiculous amounts of ascent and descent I knew my quads needed a proper bashing beforehand. But a knee niggle meant that didn't really happen.
I did however manage a 73-mile run around the Isle of Wight, a foolish 11 days before UTMB – of which, Marcus was rightly disapproving. My year was going well, without strictly following his advice. I wonder now how much further I could improve if I stopped being such a rapscallion of a client? Anyway, too late. UTMB had arrived.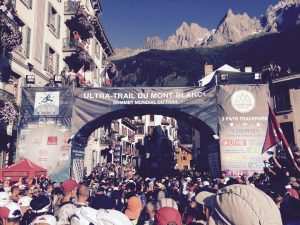 I was blown away by the atmosphere in Chamonix. There was such an infectious buzz about the place. There's nothing like it in the UK, except perhaps the London Marathon, but that goes on for half a day (and is on ouchy, flat tarmac). This goes on for a week.
With Vangelis' Conquest of Paradise rocketting us off, I'd never felt so electrified by a race start. I figured if I could finish within 30 hours that'd put me in the top 100 of the 2,500-plus starters. I felt good all the way to Courmayer, nearly half way. The crowds were amazingly supportive, families gathered round open fires halfway up mountains to cheer us on. The night was perfect, warm with a full moon.
But I felt weary after Courmayer and increasingly powerless on the long climbs. Then the sun came up, splashing across the snow-topped mountains around me, and I felt very happy. It got hotter. But my quads got crosser. The descents got longer and more hurried. My climbs got more powerless.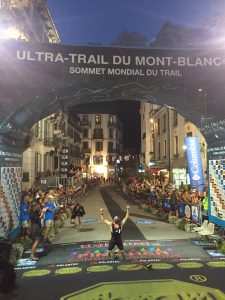 But finally, just as it got dark, I made it back down to Chamonix in under 27 hours and in 32nd place. And the greatest reception from crowds I've ever had. I went high-five mad, got a little carried away on the finish line and celebrated like I'd won the thing. But what the hell. If that was as good as it gets for me, I can retire happy.
It was a magical end to my running year. Well, after the highly recommended new Skyrunning race, Lakes Sky Ultra, anyway. A tough but beautiful course and a cracking day out.
This has been my best year of running. In terms of race results, but also in terms of the wonderful places I've been privileged to run and the inspiring people I've met.
Coaching has helped me. But these races aren't just for uber-athletes and mid-life crisis types like me. Anyone can do them – I didn't run my first marathon until 2012. I'm amazed by what can be accomplished, and the deep joys that go with that, simply being on your feet for a bit of time in lumpy places.
---
Damian Hall is an outdoor journalist who's happiest when running or hiking long distances in lumpy places. There's more of this sort of self-aggrandising hogwash at www.damianhall.info.
---