Hadrian's Wall Run Highlights
Run the very best of the Hadrian's Wall Path from Corbridge to Brampton. We provide accommodation, luggage transfer, maps and guidebooks.
Hadrian's Wall Run Highlights
https://www.contoursrun.co.uk/hadrians-wall-run-highlights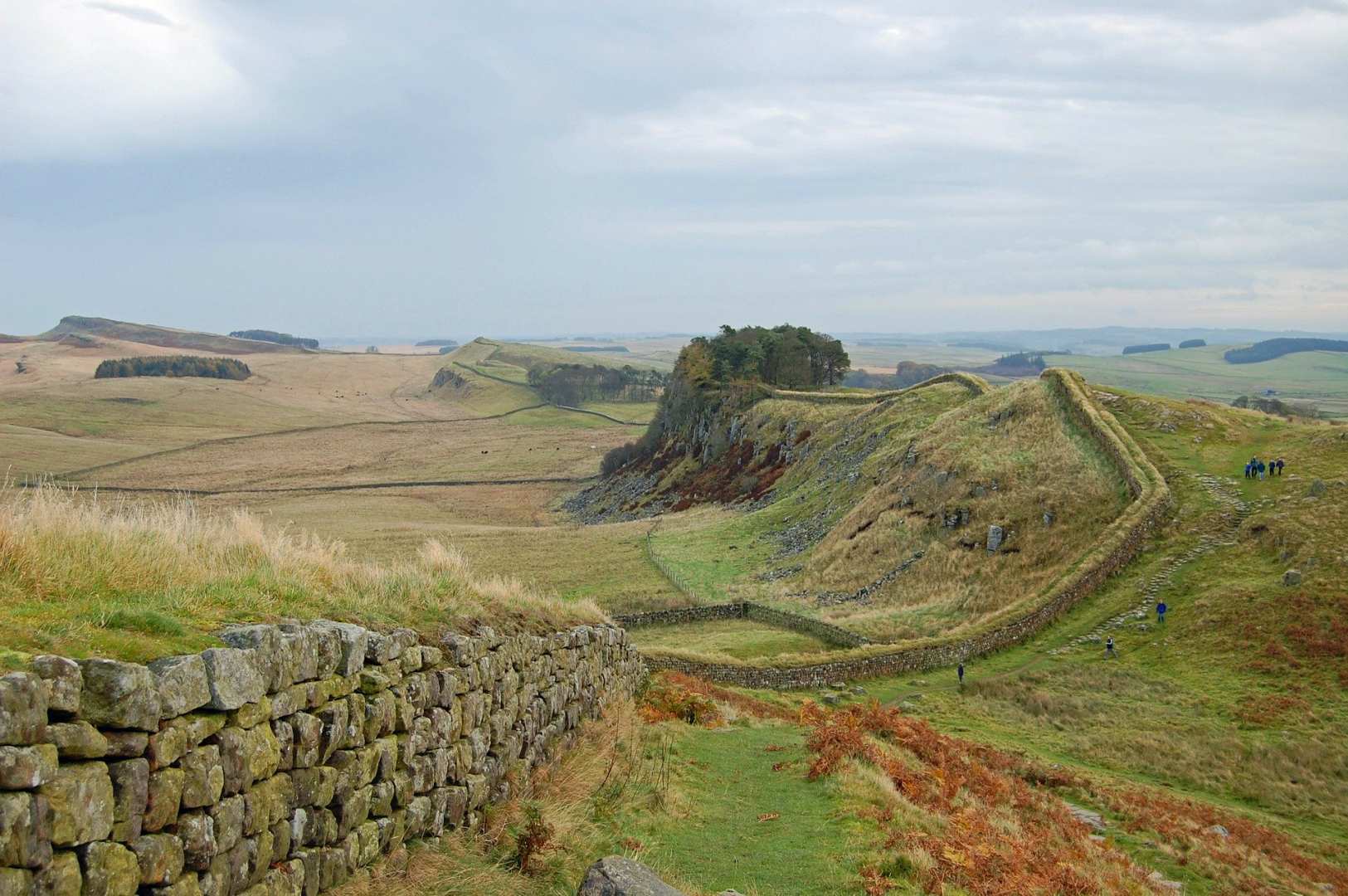 Hadrian's Wall Run
A trail running holiday along the Roman monument, from Wallsend to Bowness-on-Solway.
3 to 7 nights
26-84 miles
Easy to Strenuous
From £345 per person
Follow Hadrian's Wall through stunning Northumbrian countryside on this historic trail running holiday from Wallsend to Bowness-on-Solway. The rolling hills are sure to test you and offer a serious challenge on a higher mileage itinerary, but with its clear waymarking and abundance of archaeological sites to keep you entertained, Hadrian's Wall Path is still a great choice for the less experienced multi-day runner.
Choose your route
Hadrian's Wall Run

Hadrian's Wall Run Highlights

Hadrian's Wall Short Running Break
About this route
3 nights
39 miles
Moderate
2nd January to 24th December
Includes Dog-Friendly Tours
From £345 per person
Hadrian's Wall Run Highlights
The Hadrian's Wall Path National Trail provides a quality challenge for runners, yet is still suitable for the less experienced. This Highlights route has been developed to offer a shorter, though no less enticing option for those looking for a slightly more approachable adventure to break them in.
Setting off from Corbridge, the Highlights tour takes in far-reaching panoramas right from the start, as well as countless historic remains which tell the fascinating story of the region's turbulent past.
The route follows the line of Hadrian's Wall as closely as possible, allowing you to run in the footsteps of the Roman legionaries themselves.
| Code | Tour | Duration | Price per person | |
| --- | --- | --- | --- | --- |
| R-HHWP | From Corbridge to Brampton | 2 days running | £345 | |
Itinerary
What's included?
Extra nights?
Tour facts
Route profile
Travel info
Weather
Holiday Highlights
Start
Travel to Corbridge where your first night's accommodation will be booked
Day 1
Corbridge to Once Brewed. 21 miles (33.5km) / 2507 ft (764 m) ascent
Day 2
Once Brewed to Brampton. 17.5 miles (28km) / 1296 ft (395 m) ascent
Finish
Depart from Brampton after breakfast
Your Itinerary
This itinerary lists our preferred overnight stops for this tour. Sometimes there may be a shortage of available accommodation in a preferred location, in which case we will transfer you from the trail to your accommodation and back again at no extra charge. Overnight stops marked with a (T) will always require transfers as standard.
Overnight stops marked with an (L) have very limited accommodation, and therefore more often than not will also require a transfer, particularly on bank holidays and weekends. We will use non-transfer accommodation wherever possible.
The daily mileages quoted are average trail miles only and do not include the distance from the trail to your accommodation. We do not expect you to have to travel more than a mile from the trail to your accommodation in most cases; should your accommodation be further than this, transfers will be provided as standard if practical. A very limited number of stops will require you to travel on foot up to two miles off the trail, however these instances will be clearly communicated to you if applicable.
Further transfers may also be required due to some accommodations having a two-night minimum booking policy, especially at weekends.
Below are the additional costs that may apply depending on your requirements. Dog-friendly tours are subject to a Daily Dog Charge, which will be listed below if applicable. Our standard prices per person are based upon two people sharing a room; if you are on your own, or are part of a group but require a room of your own, then the Solo Traveller or Single Supplements apply respectively:
A note about transfers
£55.00 per person / per night
£40.00 per person / per night
You can add rest days at any of the overnight stops:
£65.00 per person / per night
Corbridge to Brampton
39 miles (62 km)
2nd January to 24th December
Holiday highlights
Experiencing Roman history at extensive historic sites, such at the fountain house, granaries and walled military compound in Corbridge.
Climbing to stunning mountain views at Pike Hill Signal Tower.
Running along the very best section of Hadrian's Wall, where even the towns have Roman history in the buildings built with pilfered Roman stone.
What's included?
3 nights' accommodation in en-suite rooms (where available) in selected B&B's, hotels, inns and guesthouses along the trail, or a short distance away via taxi provided at our expense.
Breakfast each day.
Door to door luggage transfer.
Maps with the route marked on and a guidebook or route notes describing the trail.
An information pack containing an itinerary, instructions on how to find your accommodation each night and a kit list.
Detailed travel instructions on how to get to the start of your holiday and back from the end of it.
Extra Nights & Rest Days
If you would like to add extra nights into your holiday to explore Hadrian's Wall and the surrounding areas more thoroughly, there are plenty of excellent destinations along the trail for you to choose from.
Corbridge is a charming small town that is steeped in history. St Andrew's Church overlooking the Market Place dates back to Saxon times and contains some fascinating relics. Beside the church stands the Vicar's Pele, a beautifully preserved 14th century fortified tower-house. Other important buildings include Monksholme, a fine Jacobean house and Low Hall, the oldest house in town. On the outskirts of the town lies the garrison town of Corstopitum. The extensive remains provide a remarkable insight into the layout of the town, showing the foundations of temples, public baths, workshops and houses, the garrison headquarters and the best-preserved granaries in Britain.
Once Brewed is another good choice for a rest day, particularly if you're looking for a quiet place in which to relax. The village is nestled in some of the most beautiful countryside along the trail and would be perfect for a gentle jog around the local area to get you warmed up for the rest of your holiday. The Twice Brewed Inn is a famous pub that also makes its home here, and is a great place to unwind at the end of the day and enjoy some delicious food and drinks.
You can add rest days at any of the overnight stops:
£65.00 per person / per night
Tour Facts
Total distance: 38.5 miles (61.5 km)
Duration: 3 nights, 2 days running
Minimum daily distance: 17.5 miles (28 km)
Maximum daily distance: 21 miles (33.5 km)
Code: R-HHWP Grade: Moderate
Season: 2nd January - 24th December
Start of holiday: Corbridge
End of holiday: Brampton
Route Profile

Travel Information
Useful information and travel links that will assist you in your plans to travel to the start of the holiday and back from the end of it are sent to you with your full tour pack. A summary is given below:

By Air - The most convenient major city and international airports are Newcastle, Teesside and Leeds Bradford.

By Rail - There is a rail station at the start of the trail (Corbridge) and at the end of the trail (Brampton).

By Bus - Various bus services run to Corbridge and from Brampton.

From London - Trains run from London King's Cross station (and occasionally London St Pancras International) to Newcastle. From there trains then run to Corbridge.

Return To The Start - The easiest way to return to the start of the trail is to catch a train or bus from Brampton to Corbridge (the bus does not run on a Sunday).
Weather Information
To find out more about the weather forecast for your chosen holiday's general location, please see the following websites:
MetCheck - This website allows you to look up detailed weather information for specific locations as far as six months in advance.
Met Office - This website shows regional area forecasts a few days in advance, with a general UK forecast description of up to 30 days in advance.
Mountain Forecast - This website shows what the forecast is like up on specific hills and fells, and offers forecasts a few days in advance.