Running the Derby Half Marathon
Laura takes part in the 2018 Derby Half Marathon: a great trail running challenge.
Running the Derby Half Marathon
https://www.contoursrun.co.uk/derby-half-marathon-2018
Running the Derby Half Marathon
By Laura Cummings
Last year I ran the Derby Half Marathon - the day before my first day at Contours - and being 16 degrees with blaring sun it was a tough day, but it was the first time I had ever completed that distance in one go, so I was really pleased.
This year, I decided to run the Derby Half for a second time. The organisers for the event have changed and is now organised by Run For All Events. I was really looking forward to my first time ever repeating a course, and also to see the change in organisers as I already signed up to another Run For All event (the Sheffield Half Marathon 2019). Leading up to race day, I have never been so prepared physically, running 11 miles every weekend on a hilly route and finding it a very comfortable distance.

Race day itself came round and the temperatures were set to be a scorcher – 24 degrees! This did make me slightly apprehensive as I really don't enjoy running at these temperatures. Still, I was excited and raring to go. The event ground for this race is such a good place to start and end; Pride Park Stadium, with plenty of stalls to have a look around selling lots of fabulous running gear, as well as music from the local radio station. All creating a great vibe – runners were sent to their starting pens around 20 minutes before the race start. 4000 runners lined up ready to go – much more than last year – and with everyone in place, the race started.
The Derby course is a really good mix of pavement and trail – the first half is through the city centre itself and therefore all tarmac and road running – I do like this type of running, but the heat was proving to be tricky. Even so, I ran the first 5 miles faster than the previous years' attempt and was feeling good. The route then moves into Elvaston Park and past the castle, which becomes a nice trail terrain underfoot. This was past the half way mark and has a lot of very open stretches of unsheltered route! This was when the sun hit its peak and at 24 degrees I was forced to slow to a walk, however, this let me recover and enjoy my surroundings – at the 10 mile mark, there were not many people running anymore due to the heat and I met some lovely people who shared their running stories.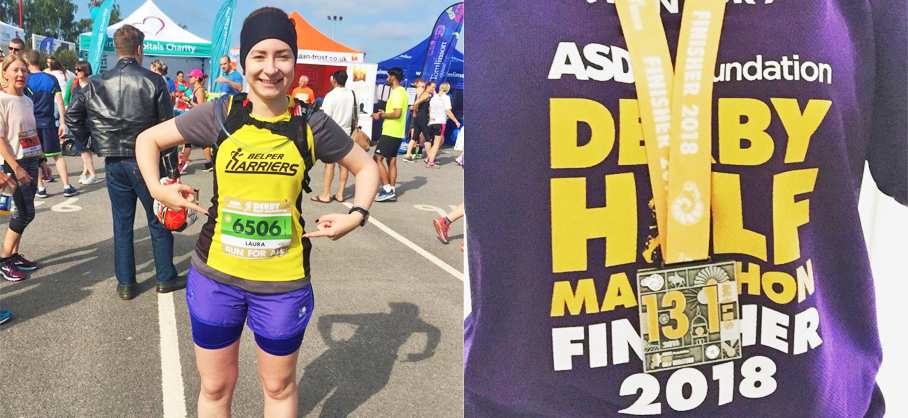 11 miles into the race and I was managing a walk/run, finding it too much of a struggle to continuously run, but with the end in sight I pushed on to find my Mum waiting for me around 800m from the finish line, a quick break and hydration stop with Mum and I continued ready to finish the race strong – running up to the 400m mark where my Dad and boyfriend awaited before sprint finishing from the 200m line!
Overall, this race was brutal in the heat and just shows that all the preparation you do, if the conditions are not great on the day, it doesn't make a difference! I really enjoyed myself and it was nice to meet other runners around the route. This was the first time finishing a race made me ill, and it was just the pure heat and lack of breeze that lead to pure exhaustion! It really shows how important it is to tailor your run to the conditions and not pushing yourself silly when you need to be sensible – over a third of the day's runners didn't finish the race and in getting to finish myself, I am very proud – a toughy but goody!
Top posts