Coast to Coast Short Running Break
Run from Ennerdale Bridge to Patterdale along Wainwright's Coast to Coast. We provide accommodation, luggage transfer, maps and guidebooks.
Coast to Coast Short Running Break
https://www.contoursrun.co.uk/coast-to-coast-short-running-break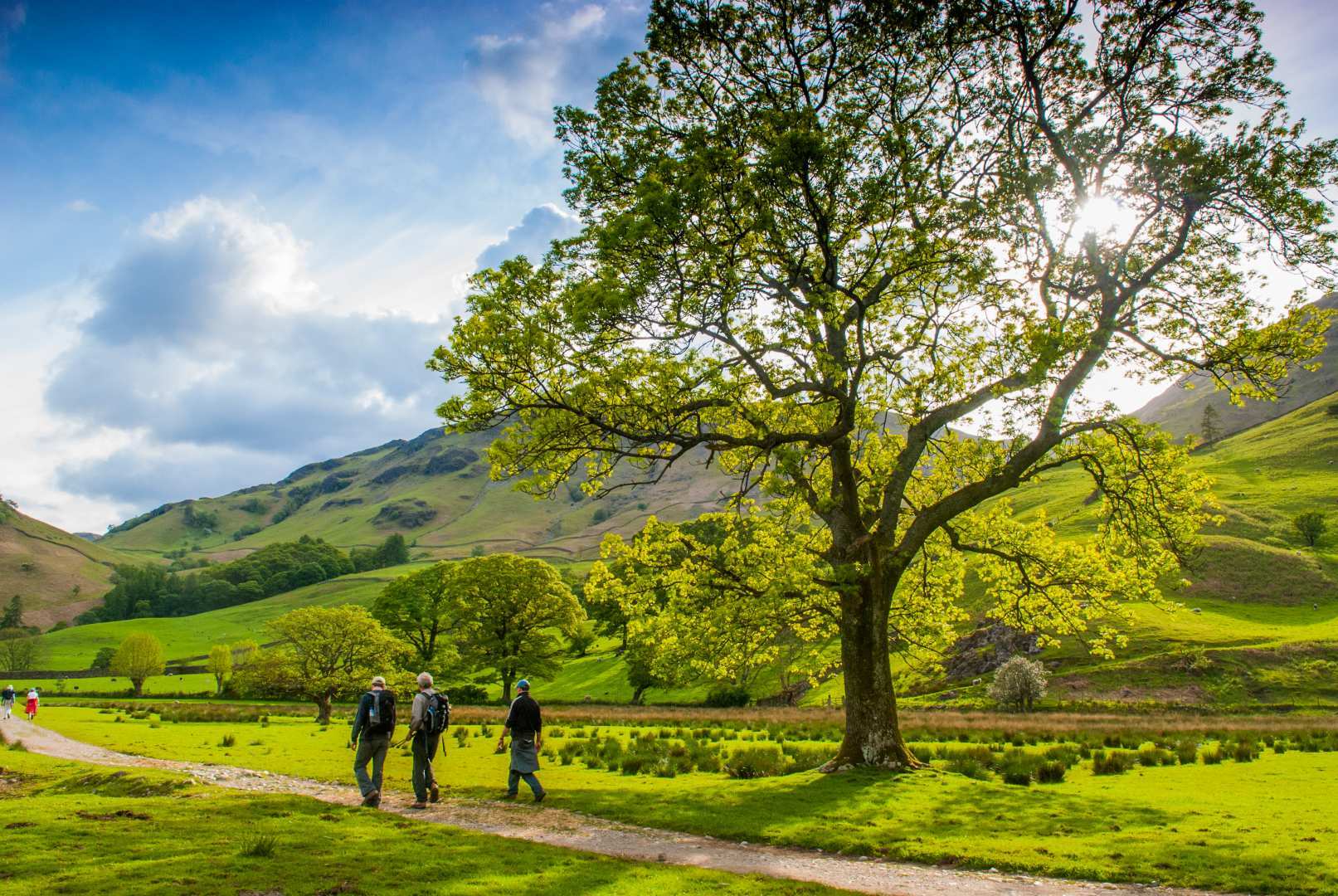 Coast to Coast Run
A trail running holiday along Wainwright's famous trail, from St Bees to Robin Hood's Bay.
3 to 12 nights
32-190 miles
Easy / Moderate to Strenuous
From £360 per person
Triumph over a slew of challenging trails through the Lake District, the fell-running capital of England, before taking off across the Yorkshire Dales, Pennines and the wilderness of the North York Moors. Our Coast to Coast trail running holidays do what they say on the tin: they offer the opportunity to cross the width of England on foot, from one coast to the other.
Choose your route
Coast to Coast Run

Coast to Coast Run - East Section

Coast to Coast Run - West Section

Coast to Coast Short Running Break
About this route
3 nights
32 miles
Moderate
1st April to 20th October
Includes Dog-Friendly Tours
From £360 per person
Coast to Coast Short Running Break
This short break offers runners a chance to explore a short stretch of Wainwright's iconic Coast to Coast route, ideal for those with little time or those needing to practise their fell running and navigation skills. This tour explores one of England's most beautiful National Parks, filled with dramatic mountains, quaint villages and expansive lakes.
Setting off from Ennerdale Bridge, the trail encounters a range of rugged fells, glittering tarns, valley pastures and fabulous waterfalls as it undulates across remote terrain towards the beautiful town of Patterdale. While the ongoing series of summits and descents will test any runner's endurance, the staggering scenery and hilltop viewpoints continuously serve as excellent motivation throughout your run.
This route can be run in the opposite direction upon request. Please contact us and we will be happy to assist you.
| Code | Tour | Duration | Price per person | |
| --- | --- | --- | --- | --- |
| R-CCWSB | From Ennerdale Bridge to Patterdale | 2 days running | £360 | |
Itinerary
What's included?
Extra nights?
Tour facts
Route profile
Travel info
Weather
Holiday Highlights
Start
Travel to Ennerdale Bridge where your first night's accommodation will be booked
Day 1
Ennerdale Bridge to Rosthwaite. 14.5 miles (23km) / 2388 ft (728 m) ascent
Day 2
Rosthwaite to Patterdale. 17.5 miles (28km) / 3665 ft (1117 m) ascent
Finish
Depart from Patterdale after breakfast
Your Itinerary
This itinerary lists our preferred overnight stops for this tour. Sometimes there may be a shortage of available accommodation in a preferred location, in which case we will transfer you from the trail to your accommodation and back again at no extra charge. Overnight stops marked with a (T) will always require transfers as standard.
Overnight stops marked with an (L) have very limited accommodation, and therefore more often than not will also require a transfer, particularly on bank holidays and weekends. We will use non-transfer accommodation wherever possible.
The daily mileages quoted are average trail miles only and do not include the distance from the trail to your accommodation. We do not expect you to have to travel more than a mile from the trail to your accommodation in most cases; should your accommodation be further than this, transfers will be provided as standard if practical. A very limited number of stops will require you to travel on foot up to two miles off the trail, however these instances will be clearly communicated to you if applicable.
Further transfers may also be required due to some accommodations having a two-night minimum booking policy, especially at weekends.
Below are the additional costs that may apply depending on your requirements. Dog-friendly tours are subject to a Daily Dog Charge, which will be listed below if applicable. Our standard prices per person are based upon two people sharing a room; if you are on your own, or are part of a group but require a room of your own, then the Solo Traveller or Single Supplements apply respectively:
A note about transfers
£55.00 per person / per night
£50.00 per person / per night
You can add rest days at any of the overnight stops:
£65.00 per person / per night
Ennerdale Bridge/Patterdale
32 miles (51 km)
1st April to 20th October
Holiday highlights
Running through some of the best scenery in the Lake District, past rumbling waterfalls and up to imposing mountain views.
Winding along past the cliffs of Helvellyn to plunge into Glenamara Park.
Exploring a region that inspired countless English writers and taking a break to visit Dove Cottage, the best-known home of William Wordsworth.
What's included?
3 nights' accommodation in en-suite rooms (where available) in selected B&B's, hotels, inns and guesthouses along the trail, or a short distance away via taxi provided at our expense.
Breakfast each day.
Door to door luggage transfer.
Maps with the route marked on and a guidebook or route notes describing the trail.
An information pack containing an itinerary, instructions on how to find your accommodation each night and a kit list.
Detailed travel instructions on how to get to the start of your holiday and back from the end of it.
Extra Nights & Rest Days
As this trail spans the width of England from coast to coast, it should come as no surprise that it passes through countless fantastic towns and villages that are worth exploring. By adding in a couple of extra nights into your holiday, you will have plenty of time to really make the most of these areas.
The settlement of Rosthwaite is a great rest stop for runners, with a quiet atmosphere that allows you to unwind and relax surrounded by beautiful countryside. Spend the day enjoying a gentle walk or recovery run around the local area, before taking your pick of the fantastic pubs, tearooms and restaurants in which to refuel ready for the rest of the trail.
Another good location in which to enjoy an extra night's stay is Patterdale. A terrific walk here starts by taking one of the iconic Ullswater Steamers across the lake and returning along the lakeshore path.
You can add rest days at any of the overnight stops:
£65.00 per person / per night
Tour Facts
Total distance: 32 miles (51 km)
Duration: 3 nights, 2 days running
Minimum daily distance: 14.5 miles (23 km)
Maximum daily distance: 17.5 miles (28 km)
Code: R-CCWSB Grade: Moderate
Season: 1st April - 20th October
Start of holiday: Ennerdale Bridge
End of holiday: Patterdale
Route Profile

Travel Information
Useful information and travel links that will assist you in your plans to travel to the start of the holiday and back from the end of it are sent to you with your full tour pack. A summary is given below:

By Air - The most convenient major cities and international airports are Manchester, Leeds and Newcastle.

By Rail - The nearest rail stations to the start of the trail (Ennerdale Bridge) are St Bees or Whitehaven (both about 8 miles away). The nearest rail station to the end of the trail (Patterdale) is at Penrith North Lakes (about 14 miles away).

By Bus - Few buses run to Ennerdale Bridge from nearby towns. There are no buses from St Bees or Whitehaven to Ennerdale Bridge, so you will need a taxi to complete your journey. Various buses run from Patterdale to nearby towns, including Penrith.

Return to the Start - The easiest way to return to the start of the trail (Ennerdale Bridge) is to take a bus or taxi from Patterdale to Penrith North Lakes rail station and catch a train to Whitehaven. From Whitehaven take a taxi to Ennerdale Bridge. Alternatively, a taxi for the whole journey would be quicker.
Weather Information
To find out more about the weather forecast for your chosen holiday's general location, please see the following websites:
MetCheck - This website allows you to look up detailed weather information for specific locations as far as six months in advance.
Met Office - This website shows regional area forecasts a few days in advance, with a general UK forecast description of up to 30 days in advance.
Mountain Forecast - This website shows what the forecast is like up on specific hills and fells, and offers forecasts a few days in advance.