Cleveland Way Short Running Break
Run the best of the Cleveland Way National Trail, from Saltburn-by-the-sea to Scarborough. We provide accommodation, luggage transfer, maps and guidebooks.
Cleveland Way Short Running Break
https://www.contoursrun.co.uk/cleveland-way-short-running-break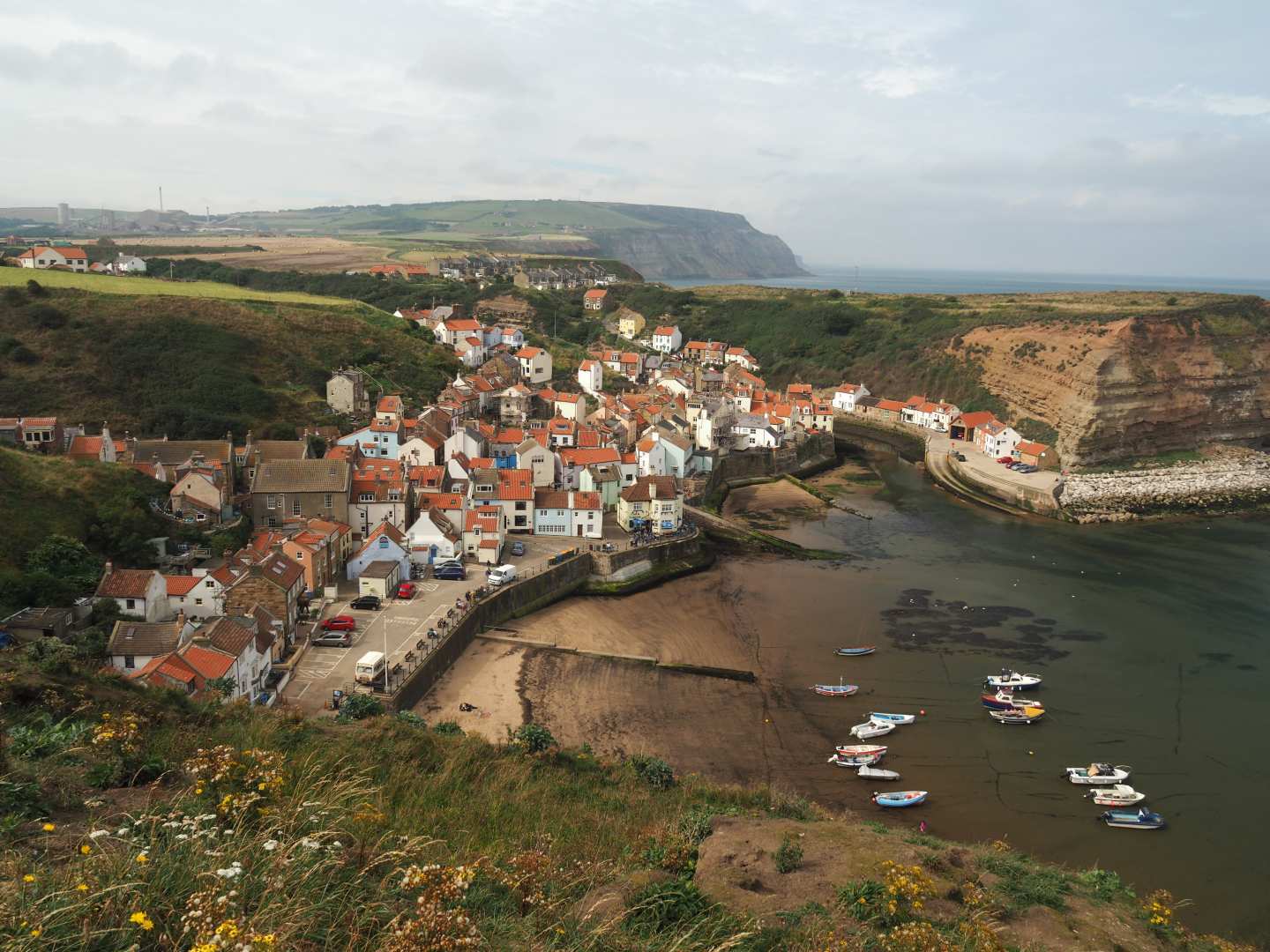 Cleveland Way Run
A trail running holiday through the North York Moors and along the Cleveland Heritage Coast, from Helmsley to Filey.
3 to 8 nights
42-111 miles
Easy / Moderate to Strenuous
From £380 per person
High open moorland and breezy coastal running await on the Cleveland Way, a trail running holiday of two distinct halves. From Helmsley, delve through the North York Moors National Park. Here the route hikes to its highest point at Roseberry Topping, but it's suitably apologetic with smooth, pleasant trails and great views over purple moorland. Soon you'll take on the North Yorkshire and Cleveland Heritage Coast, where you'll spy sandy beaches from hilly cliff-top trails. Top up your reserves with a seaside fish and chips and press on to the route's end in Filey. It's a scenic, refreshing run with some challenging gradients.
Choose your route
Cleveland Way Run

Cleveland Way Short Running Break
About this route
3 nights
42 miles
Moderate
26th March to 15th October
Includes Dog-Friendly Tours
From £380 per person
Cleveland Way Short Running Break
This fantastic short break explores the stunning Cleveland Heritage Coast section of the Cleveland Way National Trail, beginning in the Victorian seaside town of Saltburn-by-the-Sea and following the rugged cliffs down to Scarborough.
The Cleveland Way Short Running Break is a classic showcase of breath-taking coastal terrain, bounding along bracing clifftops, racing across sandy beaches and exploring a range of picturesque fishing villages and bustling seaside resorts. While the scenery throughout is beautiful, some of the best views can be seen from Boulby, the highest cliffs in England.
Locations of particular interest include Whitby, boasting amazing heritage and folklore, and the seaside resort of Scarborough, with its ancient castle providing panoramic views over the Yorkshire coastline. This three-day run, filled with beautiful landscapes and a wealth of maritime and literary history, is a fantastic way to experience this short section of the Cleveland Way.
| Code | Tour | Duration | Price per person | |
| --- | --- | --- | --- | --- |
| R-CLEVWSB | From Saltburn-by-the-Sea to Scarborough | 2 days running | £380 | |
Itinerary
What's included?
Extra nights?
Tour facts
Route profile
Travel info
Weather
Holiday Highlights
Start
Travel to Saltburn-by-the-Sea where your first night's accommodation will be booked
Day 1
Saltburn-by-the-Sea to Whitby. 20.5 miles (33km) / 2805 ft (855 m) ascent
Day 2
Whitby to Scarborough. 21 miles (33.5km) / 2769 ft (844 m) ascent
Finish
Depart from Scarborough after breakfast
Your Itinerary
This itinerary lists our preferred overnight stops for this tour. Sometimes there may be a shortage of available accommodation in a preferred location, in which case we will transfer you from the trail to your accommodation and back again at no extra charge. Overnight stops marked with a (T) will always require transfers as standard.
Overnight stops marked with an (L) have very limited accommodation, and therefore more often than not will also require a transfer, particularly on bank holidays and weekends. We will use non-transfer accommodation wherever possible.
The daily mileages quoted are average trail miles only and do not include the distance from the trail to your accommodation. We do not expect you to have to travel more than a mile from the trail to your accommodation in most cases; should your accommodation be further than this, transfers will be provided as standard if practical. A very limited number of stops will require you to travel on foot up to two miles off the trail, however these instances will be clearly communicated to you if applicable.
Further transfers may also be required due to some accommodations having a two-night minimum booking policy, especially at weekends.
Below are the additional costs that may apply depending on your requirements. Dog-friendly tours are subject to a Daily Dog Charge, which will be listed below if applicable. Our standard prices per person are based upon two people sharing a room; if you are on your own, or are part of a group but require a room of your own, then the Solo Traveller or Single Supplements apply respectively:
A note about transfers
£70.00 per person / per night
£50.00 per person / per night
You can add rest days at any of the overnight stops:
£65.00 per person / per night
Saltburn-by-the-Sea/Scarborough
42 miles (67 km)
26th March to 15th October
Holiday highlights
Racing along the highest cliffs in England at Boulby, with extensive views to admire.
Delving into Whitby's fascinating sights, including the whalebone arch, Whitby Abbey and St Mary's Church.
Visiting the lively coastal towns and quaint fishing villages that populate this spectacular section of Yorkshire coastline.
What's included?
3 nights' accommodation in en-suite rooms (where available) in selected B&B's, hotels, inns and guesthouses along the trail, or a short distance away via taxi provided at our expense.
Breakfast each day.
Door to door luggage transfer.
Maps with the route marked on and a guidebook or route notes describing the trail.
An information pack containing an itinerary, instructions on how to find your accommodation each night and a kit list.
Detailed travel instructions on how to get to the start of your holiday and back from the end of it.
Extra Nights & Rest Days
If you would like to add an extra night into your holiday to explore the locations along the Cleveland Way, or to take a break from running for a day, then there are plenty of interesting locations to choose from along the trail.
The Cleveland Way Short Break visits the characterful town of Whitby, with plenty of attractions to occupy you during a rest day. Not only is there an attractive harbour to visit, several fascinating museums to explore and the infamous ruined abbey atop a hill in which Dracula was said to have resided, but there is a variety of shops and some of the most famous restaurants and fish and chip shops in the UK. There are also plenty of sports shops, leisure centres and swimming pools in Whitby, as well as a couple of sports massage clinics if you're beginning to feel a bit sore from your run.
If you fancy somewhere livelier however, you could consider spending an extra night in the bustling seaside resort of Scarborough at the end of your break, where you can soak your feet in the sea, go rock-pooling or even try your hand at surfing, with many sports shops and leisure centres dotted around the town. There is a wide range of attractions to suit everyone; whether you want to relax on the beach, challenge your friends to a game of miniature golf, enjoy delicious locally-produced food or explore the surrounding trails on foot or by bike hire, Scarborough promises to keep you entertained throughout your stay.
You can add rest days at any of the overnight stops:
£65.00 per person / per night
Tour Facts
Total distance: 41.5 miles (66.5 km)
Duration: 3 nights, 2 days running
Minimum daily distance: 20.5 miles (33 km)
Maximum daily distance: 21 miles (33.5 km)
Code: R-CLEVWSB Grade: Moderate
Season: 26th March - 15th October
Start of holiday: Saltburn-by-the-Sea
End of holiday: Scarborough
Route Profile

Travel Information
Useful information and travel links that will assist you in your plans to travel to the start of the holiday and back from the end of it are sent to you with your full tour pack. A summary is given below:

By Air - The most convenient major city and international airports are Leeds-Bradford, Manchester and Teesside International.

By Rail - There is a rail station at the start of the trail (Saltburn) and also at the end of the trail (Scarborough).

By Bus - Various buses run to and from Saltburn and Scarborough.

From London - Trains run from King's Cross station to Saltburn.

Return To The Start - The easiest way to return to the start of the trail, is to take a taxi as public transport options are rather lengthly.
Weather Information
To find out more about the weather forecast for your chosen holiday's general location, please see the following websites:
MetCheck - This website allows you to look up detailed weather information for specific locations as far as six months in advance.
Met Office - This website shows regional area forecasts a few days in advance, with a general UK forecast description of up to 30 days in advance.
Mountain Forecast - This website shows what the forecast is like up on specific hills and fells, and offers forecasts a few days in advance.