by Laura Cummings
This year of running has been my greatest achievement to date. I pushed myself more than I thought possible, ran in hail storms and along Hadrian's Wall, ran my farthest distance in one go and went on my first multi day running adventure. Looking back, I am amazed at how much I have achieved and hope this will motivate others to push their running activities and share this feeling!
Achievements in the Office
I am also very proud of the Contours team. We have all pushed ourselves this year, not only in running (five of us undertaking their first 5k races) but also in hiking 24 miles in a day to celebrate the 50th anniversary of the Cleveland Way National Trail – no small feat! Getting outdoors with friends and sharing an achievement is what we are really passionate about at Contours and I love that I can share this with my colleagues.

Running Hadrian's Wall Path
Hadrian's Wall remains my biggest running achievement. It was my first multi-day running trip, with longer distances than I normally run in one go. It was hilly (very hilly), we carried more weight on our backs than I have before, it was boggy in places and it was windy, but Hadrian's Wall became the most rewarding experience and created memories I will treasure always.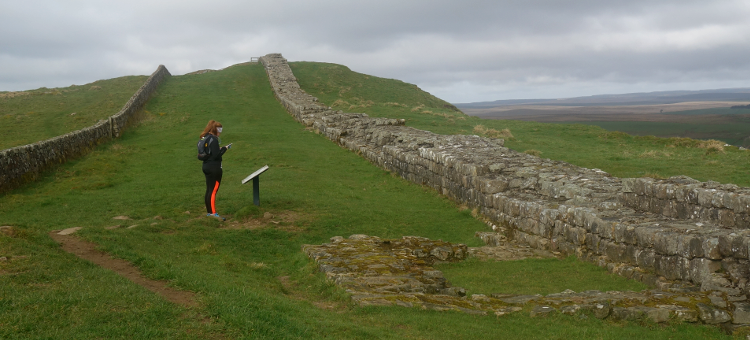 I got to share the experience with a friend and make new friends along the way — my first taste of what our customers experience when out on a Contours Holiday — and I loved every second of it.
Half Marathons and Parkruns
Somehow, around these events and all the training involved, I managed to squeeze in a half marathon in Sheffield (uphill for first five miles and including two hail storms at the highest part of the route), ran a 10K in Berkshire with my first ever running buddy, and completed countless parkruns and reservoir runs in between.
A Year Well Spent
Looking back, I can really see how these events have helped me, physically and mentally, to lead a healthy and positive lifestyle. When I was writing this review this time last year, I would not have believed I could accomplish so much. It just shows what you can achieve in a short space of time.
This year also saw me out of running for the longest period since I started. I broke three toes, which had me immobile for most of the summer. This time off to recover and rest was just what I needed after my busy start to the year and I couldn't wait to get back out on the trails — it was, however, a good time to plan for future events.
Looking Toward 2020
Some of the Contours team are now considering longer events to enter and I have my eye on a few more half marathons and maybe another multi-day trip for 2020. Now is a great time to make the most of our winter price freeze and book yourself on a Contours Holiday!